A few days after the battle for Tukayyid was concluded, we received the final results: Clan Wolf had achieved both their overall objectives, while Clan Ghost Bear and Clan Jade Falcon either achieved one objective, or were declared a tie. All other Clans were soundly beaten, some within just a few days of fighting. What fools ...
At any rate, things started to settle down somewhat. Word unofficially filtered down that we were to find ways to relax. One of these ways caught my eye: A billiards tournament. I had been practicing with Bob for several days now, and we had played on and off since our first meeting at the pool table. While he was still better than me, I gave him far more of a challenge now, and occasionally, I won a game. Once, I was able to win three games in a row -- though I admit luck played a major role in that event!
Anyhow, I saw the following poster on the Clan bulletin board: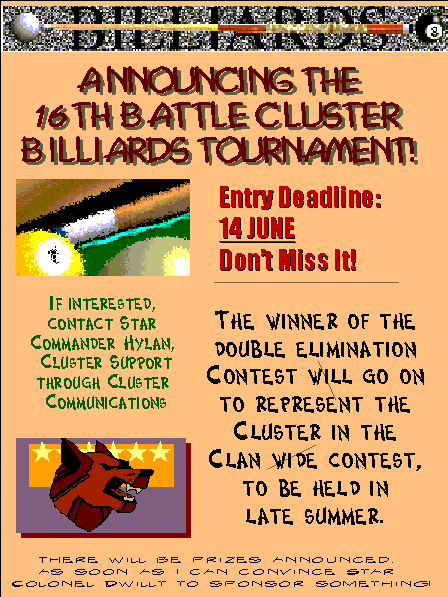 My thought process at that time went something like this:
Cool! A tournament in pool! Maybe I should enter ... If I win, I get some name recognition in my favor, which could be important when the next BloodName contest comes up. ... On the other hand, if I lose disastrously, that would be really bad ... <rumble, rumble, rumble> ... How much practice have I been getting recently? ... Probably not enough to win outright ... Maybe I'll have time to practice some more before the tournament ... [I thoughtfully walk into a steel pylon, and say ] "Oh, I beg your pardon, Star Commander." ... <rumble, rumble, rumble> ... I wonder if Bob is entering? ... He probably is ... He just might win, too! ... <rumble, rumble, rumble> ... What duties do I have in the next few days ... Hmmm [Accidentally bump into an Elemental in armor] Now why would they put a support pylon in the middle of a walkway??? ... Seems like I have enough time for a little practice ... <rumble, rumble, rumble> ...
Well, I knew that there was bound to be a Bloodname trial for the Spoint Bloodline sometime or another, and when that happened, I would prefer to have a sponsor -- the Grand Melee is not the ideal method to earn a Bloodname! [Besides which, my GM would skin me alive if I made him run a battle with AT LEAST forty opponents, to my one Mech!!!] So, some name recognition would be helpful. On the other hand ... Well, I was confident that I would avoid embarrassing myself too badly. It was worth a shot! So by golly, I'll enter it!
So, enter it I did. I won a few rounds, but got bumped from the tournament when I played against some of the higher players. I eventually placed about fifth overall, which is pretty good for someone who who only seriously played pool for about a year! (Before that, it was simply an interesting hobby, as opposed to a serious interest.) As I had predicted, Bob won the overall tournament.
A few days afterwards, things really became interesting: I received a Call to Trial -- for a Spoint Bloodname!